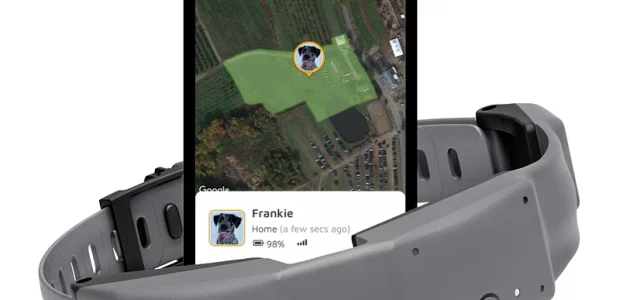 Meet The Game-Changing GPS Collar That Lets Dogs Truly Roam
June 5th, 2023
Anne Briggs is out in the early Tennessee morning, riding across warm, sunlit fields and breathing the crisp air of the Great Smoky Mountains. It's horrible. Her Colorado Mountain Dogs have escaped, again, and could be roaming anywhere over her farm's hundreds of acres. Finally, she spots the two furry offenders, Johnny and June, and escorts them back to the barn. Her work schedule is pretty much shot. Sometimes, her dogs take days to turn up.
Anne is always worried about them—and her livelihood which relies on livestock guardian dogs to protect her goats and alpacas from predators. She persisted for three years in search of a solution. Now, she lets Johnny, June, and her animals in the open pasture without any fencing. Anne's search-and-rescue efforts are as easy as opening an app.
This is SpotOn GPS Fence, a complete tracking and fencing system for dogs that works more reliably and effortlessly than any GPS collar on sale today.
"That is really going to be a game-changer for the farm," Anne says. "We get the animals out of the barn and heavy-use area, we stop paying for feed and hay in the barn, and we get the animals back out on pasture and fully protected by the dogs."
Perhaps you're a dog owner like Anne who can't justify building miles of physical barriers on her property or losing precious work (and sleep) when her dogs wander. Or maybe you've used a buried wire fence in the past, and are tired of the wear and tear and repairing broken wires. Either way, SpotOn was made to give dog owners the reliability of a traditional fence with the convenience expected in today's wireless world. Designed and assembled in the United States, SpotOn appears like a conventional rubber collar. It fits dogs with neck sizes ranging from 10 to 26 inches and the waterproof enclosure makes cleanup a breeze. But inside is a sophisticated GPS antenna that connects to four satellite constellations—as many as 30 individual satellites—at the same time. No other collar has this level of pinpoint accuracy and built-in redundancy, even under thick brush and tree coverage.
"We want dogs to roam free and be safe," says Sung Vivathana, inventor and SpotOn vice president of engineering. "We worked with pro dog trainers. We wanted to make sure what we were doing was effective for owners and good for dogs."
The challenge seemed insurmountable. How do you design a collar filled with complex electronics that can withstand the rough and tumble nature of a dog's daily life? The SpotOn team in New Hampshire did just that. The three base plates containing the patented GPS antenna, 4G LTE modem, Bluetooth transmitter, inertial sensors, battery, static correction plate, and central processor are very sturdy and waterproof. Yet they're integrated and shaped to curve naturally with a dog's neck and weigh only a few ounces. There's a single button for power and one LED to indicate the charging and connectivity status. An included USB and wall charger requires just a little over an hour to keep the collar active for nearly 24 hours.
The accuracy is, in a word, uncanny. SpotOn lets you plot a fence in two convenient ways: Walk while the app tracks your movement, or draw the boundaries on the app's map. Either method proved to be accurate within a few feet. SpotOn GPS Fence is designed to provide three alerts in sequence—a beep when approaching the boundary, a louder beep at the boundary, and a vibration when stepping over the line. In repeated tests, the precision of the alerts is what sets SpotOn apart and helps dog owners feel more confident using a GPS collar. As an alternative to vibration, SpotOn offers static correction with 30 levels—and to reward good behavior, the collar never corrects when a dog is returning home.
What's most convenient is the ability to save 20 unique fences on the app and set the collar to that specific fence within seconds. Imagine visiting a friend's home or going out to a new park without having to worry about your dog running off. Even better is the customization within each fence. Want to create a fence within a fence? It's easy to create "keep out" areas such as a pond or a driveway. How about day and night modes within the same area? SpotOn is the only product that lets you share the same GPS coordinates so you can, for example, restrict your dog's movement at night and let him run longer during the day. Live tracking is another lifesaver. On the app, owners can see position updates every few seconds to allow them to track their dog.
Since debuting in 2019, SpotOn is already in its second generation and continues to advance the product by adding new features and enhancements. Vivathana says his team is hard at work to reduce the size of the electronic components and training its AI to better anticipate when a dog is resting, for example, to preserve battery life. It's an ever-improving product from a company that wants dog owners to feel peace of mind.
"Our customer service members work in the office space next to me," he says. "If a collar gets damaged, we'll assess it together in real-time with the customer and we'll overnight a loaner while we wait for it to return to make repairs."
For Johnny and June—and for all dogs and their owners who love being outside—life just got a whole lot better with SpotOn.
Sponsored by SpotOn GPS Fence.
Big Sale at The World's Most Innovative Spoton Fence
Create GPS dog fences of any size, any shape and almost anywhere. SpotOn GPS Fence is reliable, flexible, and easy to use thanks to our patented True Location™ technology. Experience life unleashed with the SpotOn virtual fence for dogs.
Take advantage of this special offer Get Up to $150 Off .
How it work Virtual fences, virtually anywhere you want
MOST RELIABLE & ADVANCED
SpotOn's best-available GPS technology taps into a network of 128 satellites – the most coverage on the market – allowing you to create precise boundaries that pinpoint your dog's True Location.
ANY SIZE. ANY SHAPE.
Create fences from ½ acre to 1,000+ acres. Fence across water and tricky terrain. Add keep-out zones where you don't want your dog to roam.
EASY & HASSLE-FREE
SpotOn is a snap to set up and manage from your phone. Create, save, and edit GPS dog fences whenever and wherever you need them.
FENCES AT HOME & AWAY
There's no hardware to install so you can make fences at home, at a 2nd home, on the go, or if you move.
Amazon 2023 Pet Day Sale: The Best Deals That Are Still Live
While Amazon's Pet Day sale officially ended yesterday, there are plenty of deals on pet supplies still live on the retailer's site. And unlike Prime Day, Amazon Pet Day is accessible to all shoppers regardless of Prime membership status. During the sale, you can find hundreds of deals on litter boxes, dog nail clippers, pet toys and more. And while the sale mostly offers savings on dog and cat related products, you'll also see some discounted items for fish, hamsters, birds and more.
SKIP AHEAD Best deals on dog supplies | Best deals on cat supplies | Best deals on pet home care | Best sales to shop
To help guide your shopping, we rounded up deals from brands we've previously covered or personally recommend as pet parents ourselves.
To recommend the best pet supplies to shop during Amazon Pet Day, we highlighted products from brands we've previously covered, as well as included some staff picks from Select's pet parents.
Wellness Complete Large Breed Puppy
If you're looking for dog food for a large-breed puppy, we recommend this crunchy kibble from Wellness Complete. It contains 367 calories per cup and includes protein from deboned chicken and chicken meal, plus energy-rich carbohydrates from brown rice and oats. The dog food is also formulated with glucosamine to help maintain joint health, according to the brand.
$40.27
$57.53
Amazon
$66.98
Walmart
$66.98
$72.99
Petco
Furbo 360° Dog Camera
The Wi-Fi-enabled Furbo Camera allows you to keep an eye on your pet when you're not home via its companion app. The camera rotates 360 degrees so you can see rooms from multiple angles, and it's designed with two-way audio, so you can hear and speak to your dog through the app and get alerts when they're making noise. After filling the Furbo with treats, you can also use the app to toss them to your pet. Select's Shari Uyehara and Mili Godio say using the Furbo gives them peace of mind when they leave their pets home alone, and Rebecca Rodriguez also uses the device to watch her two cats.
$189.94
$210.00
Amazon
$168.00
$210.00
Furbo
Greenies Regular Dental Dog Treats
Greenies made our list of the best dog treats because they're designed to help maintain gum health and freshen your pup's breath, according to the brand. The treats are made with easily digestible ingredients, vitamins and minerals. Godio feeds her dog, Bella, Greenies' dental chews and she's never had any teeth issues.
$12.98
$17.98
Amazon
$12.98
$23.99
Petco
$17.99
Target
Casper Dog Bed
Casper's dog bed is one of our top picks due to its memory foam construction, which experts told us helps relieve pressure points when dogs lie down and offers joint and hip support. The bed has raised bolsters for pups to rest their head on and can help create a safe, sheltered feeling. The removable nylon cover is machine-washable, and the soft material on top of the bed is designed to mimic the feeling of pawing at loose earth, according to the brand. You can purchase Casper's dog bed in small, medium and large sizes.
$111.99
$139.00
Amazon
$139.00
Best Buy
$116.32
$139.00
Chewy
Pets Know Best HuggiePup Cuddly Puppy Behavioral Aid Toy
I bought one of these toys for each of my dogs when I first brought them home. There's a battery-powered heartbeat device tucked inside that can help dogs relax, according to the brand. The toy also comes with a reusable heat pack that you can warm up in the microwave, providing extra comfort. It's also machine-washable, as long as you take the heartbeat and heat packs out of the toy.
$23.90
$29.99
Amazon
$23.90
$29.99
Chewy
$29.96
Walmart
Catit Senses 2.0 Flower Fountain
My cat, Wanda, not only drinks from this fountain, but she also loves staring at it as the water consistently flows out the spout, keeping her entertained for hours. The fountain has a 3-liter capacity and is built with a filter to provide your cat fresh, purified water. You can choose from three water flow settings depending on your feline's preferences.
$22.15
$38.99
Amazon
$22.15
$32.99
Petco
$22.15
$32.99
Chewy
Frontline Plus for Cats and Kittens Flea and Tick Treatment
Avoiding fleas is a top priority for dog and cat owners, and we've previously recommended Frontline's line of preventive treatments. This option is for cats over 1.5 pounds and safe for kittens once they're 8 weeks old. The box comes with three doses of treatment and can kill adult fleas, flea eggs, glean larvae, ticks and chewing lice.
$28.68
$49.99
Amazon
$37.13
$68.99
Petco
$42.99
Target
Pawz Road Cactus Tower Cat Tree
My cat loves her cat tree because it provides her with something to climb, scratch and play with. This multi-level option from Pawz Road is designed to resemble a cactus and has two perches, plus a cozy opening for felines to sleep inside. It also includes a dangling ball toy and a pom pom toy to keep cats entertained. The cat tree measures 32.9 inches tall and is covered in plush fabric.
ChomChom Pet Hair Remover
The ChomChom is one of our favorite reusable pet hair removal tools, and you'll find it in many Select staffer's homes, including mine. You can roll the tool over dog and cat hair on furniture, clothing, car seats and more, and it gets collected in the built-in chamber. There's a button on the handle to open the chamber and dispose of hair quickly and easily.
$29.99
$31.95
Amazon
$29.99
$31.95
Chewy
$29.99
Target
Uproot Cleaner Pro Pet Hair Remover
I recently bought Uproot's pet hair remover to help me deep-clean fabric in my home and get rid of pet hair that even the best vacuums can't get rid of. To use the tool, you scrape its head along carpet, upholstered furniture, pet beds, cat towers and more to collect any embedded dust, hair and lint. I'm shocked by how well this little tool works, and its small size makes it easy to store.
$18.99
$31.99
Amazon
$23.99
Walmart
$16.99
$39.99
Uproot Clean
Dyson Outsize+ Cordless Vacuum Cleaner
Dyson's Outsize+ Cordless Vacuum Cleaner is featured on our list of the best vacuums for pet hair. Godio uses it at home and says it picks up hair, food and dirt without leaving anything behind. The cordless vacuum offers up to 120 minutes of run time on a single charge and comes with multiple attachments like a mini dusting brush, crevice tool and more. The vacuum also has a laser to highlight microscopic dust and hair particles, plus an anti-tangle brush bar.
$849.00
$949.99
Amazon
$849.99
Best Buy
$849.99
$949.99
Dyson
Zoe Malin is an associate updates editor for Select who has covered pet products since 2020, including dog nail clippers, outdoor dog beds, items to keep pets cool and more. To write this piece, she highlighted products on sale that Select previously covered or that Select staffers have used themselves.
Catch up on Select's in-depth coverage of personal finance, tech and tools, wellness and more, and follow us on Facebook, Instagram and Twitter to stay up to date.
Zoe Malin
Don't Miss The Chewy National Dog Day Sale!
Woof woof! Thursday, August 26, is National Dog Day! To honor the occasion, the online pet supply store Chewy is holding a mega sale on all the things dogs love and need.
Check out our favorite Chewy picks below that are sure to get tails wagging. Whether you need a pet ramp, waterproof car seat cover or an adorable Halloween costume for your pooch, now is the time to shop!
But remember, the sale ends on Friday, August 27 — so don't wait! Plus, spend $100 on select items and get a free $30 gift card for future pet purchases.
Why do we love Chewy?
Chewy stocks all your pet supply needs in one convenient, easy-to-shop website, so you can find and compare products without leaving your home. Chewy's huge inventory runs from apparel to food to toys and treats — even a pet pharmacy for all your pets' health needs! They offer your favorite vet-approved brands including Blue Buffalo, Nutro, Natural Balance and more.
The pricing can't be beat, with a "Today's Deals" section for discounts and savings. Plus, if you buy something you (or Rover) don't love, you can return it up to a year after purchase! You'll receive a full refund credited back to your original method of payment.
We also love Chewy's shipping policy. All orders more than $49 ship free! Other orders ship for the low, flat rate of $4.95.
What's the Chewy sale?
Through August 27, Chewy offers multiple discounts on dog food, collars, leashes, toys and more. If you have more than one dog, or like to buy in bulk, grab a Chewy bundle (popular products grouped together) for 20 percent off.
Probably the most exciting part of the sale is the chance to earn a free gift card. Just spend $100 spoiling your cute doggie (and we know he or she deserves it) to earn the $30 e-gift card. Chewy is also offering 10 percent off e-gift cards at checkout, so make sure to pick one up for a fellow pet owner.
And just because it's National Dog Day doesn't mean cat lovers should miss out on deals! You'll earn a $15 gift card when you spend $75 on select cat products.
Our favorite Chewy finds PetSafe Happy Ride Telescoping Dog Car Ramp 
 © via chewy.Com
Help your older pup or one suffering from arthritis get safely in and out of the car with the PetSafe's Happy Ride Telescoping Pet Ramp. The adjustable length lets you custom fit it to any car or truck, and the high-traction surface ensures your dog won't slip. When not in use, it easily slides into a size small enough to fit in the trunk.
Original price: $179.99.
Sale price: $149.95.
Leather Two-Tone Padded Dog Collar 
 © via chewy.Com
Help your dog look their best with a sophisticated Leather Two-Tone Padded Dog Collar. Genuine full-grain leather, hand stitched details and five chic color options make this beautiful collar look more expensive than it is. It wears comfortably thanks to a soft, padded sheepskin that prevents irritation. Choose from small to extra large for the perfect fit.
Original price: $45.99.
Sale price: $25.95.
Quilted Water Resistant Hammock Car Seat Cover 
 © via chewy.Com
As much as you love your dog, you probably don't love the mess he or she makes in the car. The Frisco Water Resistant Hammock Car Seat Cover protects your seats from shedding fur, muddy paws and water spills. It's sized to fit most back seats with easy installation. The best part? It's machine washable, so it's clean and ready for the next trip to the dog park. Here's everything you need to know about dog hammocks.
Original price: $43.99.
Sale price: $35.99.
Pet Gear Easy Step 
 © via chewy.Com
The Pet Gear Easy Pet Step means your dog will never need to put added stress on his or her joints. This inclined helps your dog reach the sofa or bed without jumping.
The top is lined with machine-washable carpet to reduce slipping, and the bottom has rubber grippers to keep it in place. It works great for small- and medium-sized dogs with a weight capacity of 175 pounds.
Original price: $54.76.
Sale price: $44.26.
Frisco Solid Nylon Dog Leash 
 © via chewy.Com
If you're in the market for a sturdy, reliable dog leash, look no further. The Frisco Nylon Dog Leash, made from high-quality nylon, includes a strong bolt snap that securely attaches to his collar or harness. It comes in several lengths and widths as well as four fun color options, so you can get the right size and style for your dog.
Price: $6.99.
Chuckit! Flying Squirrel Dog Toy 
 © via chewy.Com
Your dog has probably had fun chasing balls and sticks, but what about a flying squirrel? Now they can (without injuring a real squirrel) with the Chuckit! Flying Squirrel Dog Toy! Fling it like you would a flying disc, and watch your dog bolt out to catch it. It even has glow-in-the-dark paws for nighttime fun.
Original price: $12.99.
Sale price: $6.57.
Frisco Red Lobster Dog Costume 
 © via chewy.Com
We can't promise your dog will love wearing this Frisco Red Lobster Dog Costume, but we can promise he'll look adorable in it! The two-piece costume features hook and loop fasteners on the neck and belly, ear holes for comfort and a built-in leash hole.
Even if you only get it on long enough for a few photos, with a costume this fun and cute, it's worth it.
Price: $16.99.
PetSafe Eatwell Five-Meal Automatic Dog Feeder
You won't have to monitor your dog's eating schedule or worry when they're home alone with the PetSafe Eatwell Five-Meal Timed Pet Feeder. Its five sections hold five perfectly portioned meals. Just set the timer, and the feeder will turn and open when it's time for their next helping of food. Easy!
Original price: $64.99.
Sale price: $49.95.